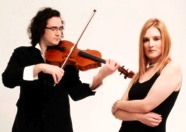 Written in 2008
Different Stones
Mezzo Soprano and Viola or Violin
5 minutes
Difficulty level: Professional
This is a setting of three poems by Jean Sprackland, taken from her collection, Tilt, published by Cape Poetry, which won the 2007 Costa Poetry Award. I was attracted by the poet's dry-eyed attitude towards natural things in the poems, combined with an element of mystery or menace. I chose to set these three poems since they add up to a narrative around the threatening character of nature, its endless endurance regardless of humans, and our eventual re-absorption back into it. The songs were written for Alessia Mankouskaya and Jose Manuel Gandia. There are concert recordings of their performance. The recordings are for mezzo and viola. There is an alternative version of the piece for violin.
The Way Down

Forget the path.
Hack through gorse and blackthorn
and walk into the stream.

the thing about a stream is
it knows where its going, has a gift
for finding the shortest route.

A path can lose its nerve,
peter out into a bog or bracken, divide
inscrutably in two. I've stood at that place

and weighed the choices, weighed
and checked again, while mist crawls
over the mountain like sleep.

When the stream divides
both streamlets are equally sure.
Each plays its own game - the slick of moss,

the sudden race over a sill of rock -
and each, if you let it,
will carry you down.
Breaking The Fall

Imagine being that fluke of rock
that juts out from the face of the hill,

the rock that breaks the stream's fall,
day and night, for millennia.

The stream runs over, sleek as mercury,
has no choice but to strike you -

shatters into beads that fire away
at more or less predictable angles.

All that varies is the weight of water,
in drought, or after heavy rain;

the pace of the flow; the pitch
and volume of the shattering.

Imagine the deadlock,
the passion. Imagine the stars.
The Fenced Wood

The finger of sunlight points the way
over the floor of dead leaves.
I unlatch the gate and walk in.

I follow the signs:
an acorn
a notched twig
a word written in lichen.

At the centre
a flat stone for a bed.
I lie down to wait.
The cold receives me.
The net of light trembles overhead.

One branch touches the wrist of another.
The breeze catches its breath.
Permission to set the poems was obtained from the author on the basis that neither composer not performers would profit from their performance. Any plan to perform which goes beyond the terms of this permission should be referred to Catherine Trippett - CTrippett@randomhouse.co.uk
Click below to download the Score (and parts if needed) as PDF files.