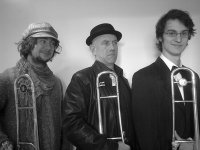 Written in 2011
Fantasia
Trombone trio
4 minutes
Difficulty level: Moderate
This piece was written for the Blowpipes Trombone Trio, a group which performs in a wide variety of venues and environments. It is intended to be performable in venues as different as shopping centres, night clubs, and concert halls. It draws on two elements of late renaissance and early baroque music, the polyphony of English composers such as Orlando Gibbons, from whom the title is borrowed, and the antiphonal style of Venetian composers such as Giovanni Gabrieli. The fact that modern trombones are descended from the sackbuts used at that time builds a further link with these sources of my musical ideas.
The piece should ideally be performed with the three players on different sides of the audience, since the top line with then be heard to move from one side to another.
Click below to download the Score (and parts if needed) as PDF files.