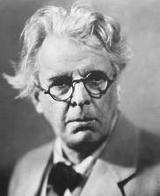 Written in 2010
Songs from Yeats: 2
Baritone and piano
4 minutes
Difficulty level: Student or Professional
W B Yeats was the greatest Irish poet of the twentieth century. He was still writing up to his death at the age of 74, and his poems often reflect the perspective of one who had lived through powerful personal and political experiences.
A Prayer For Old Age
- from A Full Moon in March, 1935

God guard me from those thoughts men think
In the mind alone;
He that sings a lasting song
Thinks in a marrow-bone;
From all that makes a wise old man
That can be praised of all;
O what am I that should not seem
For the song's sake a fool?
I pray that I may seem, though I die old,
A foolish, passionate man.
Vacillation
- from The Winding Stair and Other Poems, 1933

Although the summer sunlight gild
Cloudy leafage of the sky,
Or wintry moonlight sink the field
In storm-scattered intricacy,
I cannot look thereon,
Responsibility so weighs me down.
Things said and done long years ago,
Or things I did not do or say
Weigh me down, and not a day
But something is recalled,
My conscience or my vanity appalled.
Why Should Not Old Men Be Mad?
- from Last Poems, 1936-9

Why should not old men be mad?
Some have known a likely lad
That had a sound fly-fisher's wrist
Turn to a drunken journalist;
A girl that knew all Dante once
Live to bear children to a dunce;
Some think it a matter of course that chance
Should starve good men and bad advance.
Observant old men know it well;
And when they know what old books tell,
And that no better can be had,
Know why an old man should be mad.
Click below to download the Score (and parts if needed) as PDF files.