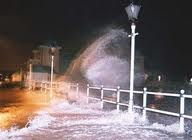 Written in 2011
Sea Front
SATB choir
2 minutes
Difficulty level: Good amateur
Eugenio Montale (1896-1981) was a poet of the sea, and came from Genoa on the Ligurian coast. Many of his poems relate to his Mediterranean home. The poems in his book Finisterre, by contrast, relate to the wilder coast of the Atlantic and include the poem Sea-front set in this piece.
Sea Front

It blows more strongly, the dark is torn to rags,
and the shadow you throw upon the fine
fence is crinkled. Too late in the day

if you want to be yourself! Down from the palm
thuds the rat, lightnings are playing upon the fuse,
on the sweeping eyelash of your gaze.
(Translated by George Kay)
Click below to download the Score (and parts if needed) as PDF files.