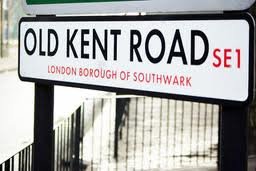 Written in 2011
A South London Academic Festival Overture
4 minutes
Difficulty level: Good amateur or student
This Overture is constructed from objects (mostly sound objects, but some rather unsound) that I have come across in South London during twenty-five years of music-making. It was written for the Trinity College of Music Prizewinners' Concert of 2008, an annual event when winners of College competitions perform in a public concert. Brahms, in his Academic Festival Overture Op. 80, made use of student drinking songs - so I decided to employ some cleansing operatives, residents of the borough in which we are performing, and of Bermondsey's most famous street, topped with some recognisable friends from the world of orchestra music.
Instrumentation: Picc+2, 2+Cor, Eb/Bb/Bass Cl, 2+Contra. Brass 4,3,2+Bass,1. 3 Perc. Strings Percussion: The percussion parts are for scrap metal. Sheets, tubes or curved sections of scrap metal which resonate are required. Saucepans are a possible substitute. Each scrap metal player should have 5 differently pitched pieces of scrap metal. A good approach is to arrange these hanging on a rack, such as a cloakroom rack, arranged from highest to lowest pitched. They should be struck with hard sticks or metal beaters.
Click below to download the Score (and parts if needed) as PDF files.