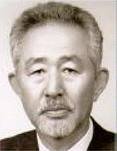 Written in 2001
River and Field
Tenor and piano
5 minutes
Difficulty level: Student or professional
Ku Sang was born in 1919 in northern Korea. After fleeing his home on the partition of the country, spent many years as a leading literary figure in South Korea. In1986 he wrote two 50-poem cycles, one on each of two traditional oriental images of time - the River, linear and flowing, and the Field, renewing and cyclical. These were translated by Brother Anthony of Taize, and published as "A Korean Century" by Forest Books in 1991. The two poems set are taken from that collection.
The River

Those spring water streams
that rose crystal clear in May time forests
now flow here, a coal black river.

Where the excrements of greed
issue from the sewers,
see what obscenity spreads like a sheen of oil
over-the foaming rocking waters!

When will the day come at last
for our river to flow out into the azure sea?

A single flower of compassion
floats, a lotus.
The Field

Until now I have never heard
any voice what ever,
from heaven, from earth,
or from men.

Neither have I seen any vision.

Within my breast have blossomed and vanished
billions
of tales of things endured
but I could not express a single word.
Click below to download the Score (and parts if needed) as PDF files.