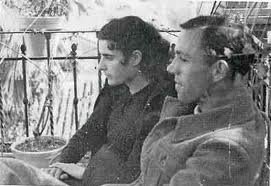 Written in 2011
Letters to Josephine
Female singer and piano
8 minutes
Difficulty level: Good amateur or student
Miguel Hernandez was the son of a goatherd in the poor south-east of Spain. A bright boy, he gained an education, and began to write. He married his village sweetheart, Josefina, but soon his poetry came to the notice of the literary elite in Madrid in the period prior to the Spanish Civil War, and he spent long periods away from home. Though politically naīve himself, he found himself on Republican side of the battle lines, and was arrested when trying to flee after the Fascist capture of Madrid. He spent the rest of his short life in prison, being moved around from one jail to another, all the time writing to his beloved wife, and eventually dying in prison of TB.
Text

Seville, March 1939. Dear Josephine. I'm well but detained.
They'll send me to Madrid. I'm sure it will be brief. A big hug.

September, Madrid. One day passes after another,
each day longing to run to you.
A year since our first child shut his eyes for ever.

October, Alicante. I long to be a father and husband,
not a prisoner, to escape from this endless darkness.

December, Madrid. I found myself in Madrid before nightfall.
Our moment together at the station I will never forget.

1940, Madrid, February. It hurts me to look at the sky and the land,
recalling the trees of our home, fresh and green now Spring has come.

June, Madrid. This long separation will bring us closer.
But prison makes me old.

July. My is trial tomorrow. I may not be released – no matter.
We must hope. Save me something sweet from the fiesta.

Palencia. Further from you, but my love grows with distance.

March 1941, Ocaņa. Tomorrow our anniversary.
Yet we've shared so little time.

June. The transfer home approved.
Yet still I wait here.
Alicante,

December. I waited for your visit, though you'd
said you could not come.

Injections today. It tires me to write. I drop the pencil.

1942. The delight a letter brings. I am much better.
I may eat soon.

The fever is worse. I sweat buckets.

The fever fades. I feel better each day.

Once I am out of here I'll recover lightning.

Two days later he died.

From 'Cartas a Josefina', by Miguel Hernandez.
Extracts selected and translated by Alan Taylor
This is a piece of music theatre, rather than a song, and needs to be acted. The words are from Hernandez's letters, but they are sung by a woman, presumably Josefina, possibly some time after he died. There is therefore an unspoken aspect of the story to bring out through the acting, which centres around her attitude. There is no doubt that her husband doted on her. To her, he was the man she had married and had children by, but he had quickly gone off to Madrid to become famous, and had then got himself arrested. When he died, she was left alone as the wife of a former political prisoner, in a hostile community, with a child to bring up on her own. The singer's performance material consists of a series of 'letters' on separate sheets of paper. Possible scenarios include her walking on holding the pile of letters, singing from each one, and then letting it fall, before walking off after dropping the last one. The performance material for the singer contains repeated bars to facilitate this.
Click below to download the Score (and parts if needed) as PDF files.