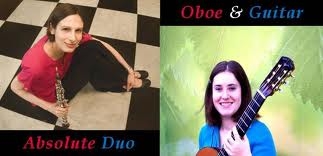 Written in 2012
Three Pieces
Cor Anglais and Guitar
8 minutes
Difficulty level: Student or professional
These pieces were written for the Absolute Duo, whose members are Julia White, oboe and cor anglais, and Georgina Whitehead, guitar. We worked together over a 6-month period in 2012 on initial ideas and sketches, draft pieces, and then the final pieces. There are three short pieces, or movements, marked: 1. Brightly. 2. Languorously. 3. Chirpy.
The players should both play from the score to aid ensemble.
Click below to download the Score (and parts if needed) as PDF files.