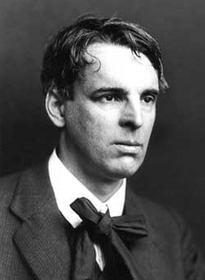 Written in 2013
Songs from Yeats: 1, for orchestra
Mezzo Soprano and chamber orchestra
5 minutes
Difficulty level: Good amateur orchestra, professional singer
W B Yeats was the greatest Irish poet of the twentieth century. He was still writing up to his death at the age of 74, and his poems often reflect the perspective of one who had lived through powerful experiences of both a personal and a political character. This is the first of two short song cycles based on his poetry.
To a child dancing in the wind - from Responsibilities, 1914

Dance there upon the shore;
What need have you to care
For wind and water's roar?
And tumble out your hair
That the salt drops have wet;
Being young you have not known
The fool's triumph, nor yet
Love lost as soon as won,
Nor the best labourer dead
And all the sheaves to bind.
What need have you to dread
The monstrous crying of the wind?

When you are old - from The Rose, 1893

When you are old and grey and full of sleep,
And nodding by the fire, take down this book,
And slowly read, and dream of the soft look
Your eyes had once, and of their shadows deep;
How many loved your moments of glad grace,
And loved your beauty with love false or true,
But one man loved the pilgrim soul in you,
And loved the sorrows of your changing face;
And bending down beside the glowing bars,
Murmur, a little sadly, how Love fled
And paced upon the mountains overhead
Click below to download the Score (and parts if needed) as PDF files.